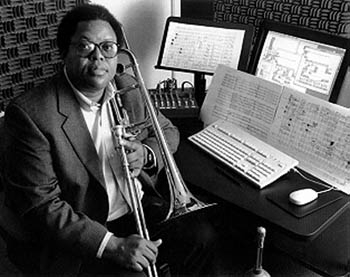 I am currently reading George Lewis's book on the history of the AACM, A Power Stronger Than Itself. I am only through the first few chapters, but feel I am learning a lot about this scene of musicians, and it's relationship to the "mainstream" jazz history that is taught in schools. Basically I am getting the more into the relationship of jazz to other musics, (B)lues, 20th century classical composition, R&B), and the AACM musicians to Bird, and so on. So what I would like to do with this blog, while I am reading the book, is write down a couple verbatim passages that jumped out at me, and talk about them. So I will quote the page number and passage, and then write in a short response after that.
p. 28
Muhal Richard Abrams: "To us, Bird and them were like people who broke ground. We copied them religiously, but that was not the end'. We didn't sacrifice our individualism to do it. There were some on the scene who did, but we didn't; we started to draw and paint, because we felt like that - doing things differently."
To me this is a blessing to hear musicians of the day, being more open, and actually Bird-like in their interest in other mediums of art, instead of a lot of people who copped his licks. As Charles Mingus said, "If Charlie Parker was a gunslinger, there'd be a whole lot of dead copycats."
p.29-30
The painter Lee Krasner observed that her husband, the painter Jackson Pollock, "would get into grooves of listening to his jazz records not just for days, day and night day and night for three days running… He though it was the only other creative thing happening in the country."
Another beautiful passage to hear about the dedication of the abstract expressionist painters to jazz music.
p. 40
"The composer Charles Ives privately recorded a short series of free improvisations between 1938 and 1943, as well as some highly personal version of movements of his Concord sonata that featured spontaneously conceived sections that apparently do not correspond to the printed score. The 1949 recording of Lennie Tristano…"
This passage jumps out to me as saying that Ives was the FIRST person to record free improvisations, predating Tristano's experiments by 6 years! Jazz history courses need to include this fact into its lectures.
p. 42
"As Amiri Baraka remembers, "I especially liked Morton Feldman's music, Cage's audacity and some of the other things."
A major figure, poet and writer on this experimental Chicago scene of artists and musicians, it's amazing to hear the influence that Cage and Feldman had on them. Personally, as an enthusiast of experiental music, be it of "jazz" or "classical" genres, this is great to read, and figure out where the crossovers lie.
p. 55
"Herman Blount founded his own band in 1950, with people like saxophonists Harold Ousley, Von Freeman, Earl Ezell, and John Jenkins, bassist Wilbur Ware, and drummer Vernel Fournier."
Herman Blount is Sun Ra, and this sounds like one of his first bands. The drummer from Ahmad Jamal fame, and the bassist from Thelonious Monk fame. Von Freeman is an amazing unheard of cat from Chicago, that is a big influence on that scene of horn players. I need to start looking around for recordings of this group, hoping that there are some out there.
p. 58
"…pianist, composer, and arranger Charles Stepney, who introduced Abrams to Joseph Schillinger's unusual system of musical composition. Stepney, a house arranger for Chess Records, was soon to apply Schillinger-related principles, along with ideas from composer Henry Cowell's early text, New Musical Resources and the work of Gyorgy Ligeti, to his landmark work for Ramsey Lewis, the Dells, the Rotary Connection and Minnie Riperton, Phil Upchurch, Muddy Waters and Earth, Wind and Fire. Stepney introduced Schillinger's books to Abrams who ended up buying his own copies."
This jumps out at me, to hear that Ligeti and Cowell were influences on such main stream music, incredible! Also to see the link of how Richard Muhal Abrams, a major teacher and figure in the AACM, was attracted to the Schillinger system of composition, which is a totally new thing for me, and I will start checking out.
p. 59-60
"As a budding painter who had already explored the synaesthetics of Kandinsky, Abrams was excited about Schillinger's construction of a necessary, ordered connection between sound, sense, science, emotion, reason, and the natural world."
Another cross influence of Abstract painters and their connection to this new music of the day, from Pollock to jazz, and Kandinsky to AACM.
P. 68
"Alvin Fielder recalled, "I developed a philosophy there that I wanted to play my bebop as loose as possible and I wanted to play my free music as tight as possible."
A great quote for me to keep in mind with the COBRA ensemble, my free improvisation group, to keep the music as tight as possible. I feel I personally have gotten a little better at playing bebop in a freer manor, but while still following a semblance of structure. Perfect quote for a musician in the crossroads of these musics.
That's all for now, will continue to update as a read more and mark more passages, enjoy!